Unquestionably, one of the most widely used social media sites today is Instagram. It is a free photo and video sharing website that enables users to interact with their friends, family, celebrities, companies, and many other individuals and organizations.
Instagram users can do the same things they can on other social media sites, such as like, comment, share, save, and send friends direct messages.
But you need to have an Instagram account in order to view someone else's profile.
You won't be able to view other users' pictures, videos, or stories if you don't have an Instagram account.
But don't worry, you can now browse Instagram anonymously without logging in thanks to Picuki.
What is Picuki?
By using the internet application Picuki, you can gain access to Instagram without opening the official app or website.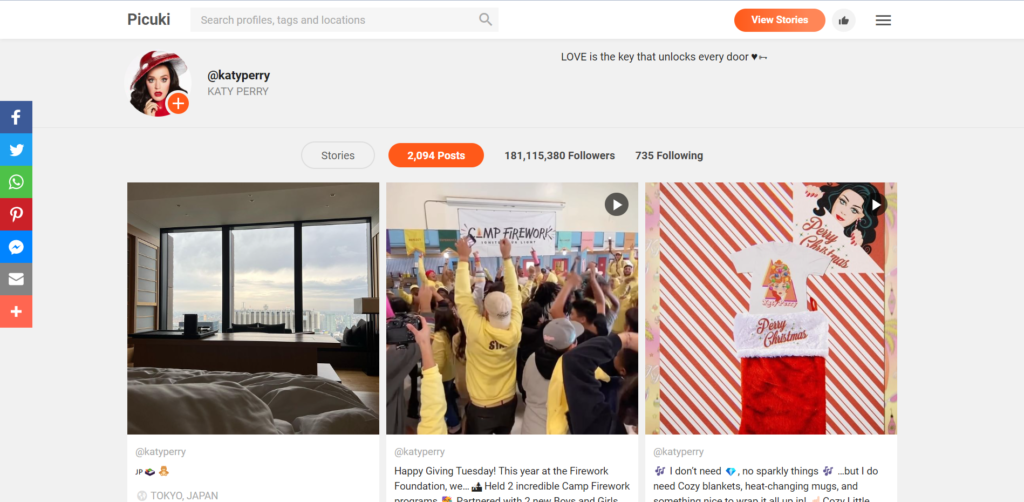 Simply open a computer browser and go to Picuki.com to begin viewing and altering Instagram profiles, stories, posts, and other content.
Picuki.com is essentially a user-friendly Instagram editor and viewer. While navigating around Instagram, users can access a number of its features through Picuki.
You can access Picuki and Instagram without creating an account to view all of this.
Users can browse Instagram on the website Picuki without logging in.
This can be quite useful if you're conducting market research and want to save your ideas after searching for results by location or hashtag.
In addition, Picuki will display the profiles of all users whose privacy settings are not set to private; you can view these users' stories and save them.
Moreover, Picuki enables you to see the entire caption beneath each post without having to tap down.
What Are The Benefits of Picuki?
Picuki has a variety of applications. The main benefit of using Picuki is that it enables anonymous viewing of Instagram accounts without requiring registration.
Even downloads of original Instagram pictures and videos are available here.
Picuki includes a fantastic editing feature that allows you to apply filters, add text, and change an image's saturation and brightness.
Additionally, it's a safe, totally free service that doesn't monitor your online behavior.
Without checking in, it enables you to view and access Instagram content.
You can find different Instagram posts using it.
Provides options for modifying Instagram photos, such as borders, stickers, text, filters, cropping, etc.
Through tags, you can access Instagram's trending material.
Rapid access to the accounts of the celebs.
How Does Picuki Work?
Picuki is a viewer and editor for Instagram. The online utility enables users to access Instagram material using an official API known as the "Instagram Basic Display API."
Users of the app can access their accounts' basic personal information, photographs, and videos thanks to this API.
As a result, Picuki functions as a search engine for Instagram-hosted material.
Via Picuki, you can perform a direct search for Instagram users as well as their photographs, videos, stories, profiles, locations, tags, and more.
Why is Picuki not Working?
Picuki is becoming more and more well-known every day, and as a result, a lot more people are visiting the website.
Some of the functions may cease functioning if the server experiences an increase in traffic.
The issue can be resolved by giving it another attempt later or by deleting the browser or app cache.
Sometimes,reloading the page, emptying the app and website cache, or waiting a while will all quickly fix a Picuki problem
10 Alternatives to Picuki
Without logging in, you can use this app to view the images and videos of any Instagram user.
For rapid results, it also contains a search bar at the front. It is easy to use and allows you to quickly browse stuff.
You may also use it to track the most recent Instagram trends and evaluate comments.
IGLookup is a free and authorized Instagram viewer, it is a web-based software, therefore installation is not necessary.
You can check up private images and movies with this user-friendly program. Even without logging in, you can download chats and private documents.
Any gadget can use it, and it is entirely lawful.
It is a program that doesn't leave a trace on your device and downloads your Instagram stories in HD.
Both Android and iPhone smartphones support it.
And using it is simple. You can see the user's most recent posts by simply typing in their Instagram username and pressing the search button.
It may be downloaded for free and makes money through Google AdSense.
It conceals the user's handle while you view or download their Instagram stories, making it anonymous as well.
You can use it to look for images and stories that are missing from your Instagram profile. You can reuse them in this manner.
Inflact may be a suitable choice if Picuki is not what you're looking for. It functions as a photo and video downloader, Instagram viewer, and Instagram story viewer.
You can download a limitless amount of content for free while using it.
This tool will enable you to visit private accounts without disclosing your login information even if you don't have a free account.
You can save your favorite Instagram photographs and stories with the photo downloader that is also included.
You can download the most recent updates to your Instagram stories as well. You have unlimited time to see news and pictures.
Even blocked accounts' stories and images can be viewed. You can save posts to your profile as well as watch 100 plus accounts incognito.
This application makes it possible to download and read stories on Instagram. To use it, all you need to do is input the username of any Instagram account.
Then, the application will search for it. It will then download pictures and stories from that account.
One of the great features of Picuki is that it's anonymous, so you don't have to worry about leaving your footprint behind.
It can also download stories and private photos from Instagram. Another great feature of InstaDP is that it can zoom Instagram photos, but they will remain high-quality.
Moreover, it also allows you to save a collection of posts for later viewing. It is a great option for those who want to download Instagram stories but don't want to spend time looking through them.
SmiHub is an additional Picuki alternative website that enables anonymous access to Instagram content.
It gives you the ability to browse Instagram content without creating an account. You may investigate Instagram hashtags, profiles, locations, followers, stories, and more using this tool.
Without checking in, it enables you to view and access Instagram content.
You can find different Instagram posts using it.
provides options for modifying Instagram photos, such as borders, stickers, text, filters, cropping, etc.
Through tags, you can access Instagram's trending material.
Rapid access to the accounts of the celebs.
A suitable candidate for Picuki's replacement is Instaxyz, a free, quick, and secure Instagram viewer.
It enables effortless checking of all Instagram hashtags and accounts.
Fortunately, it provides you with a wealth of information regarding the Instagram account you ought to be following.
When looking for a Pickuk alternative, keep in mind StoriesDown because it encourages downloading of all Instagram material.
You can download movies, images, and other stuff from public Instagram accounts even though this service does not let you access a private account.
 Garmhir is a well-liked alternative to Picuki because it can both see and analyze Instagram.
It introduces the powerful algorithm that enables you to secretly and anonymously follow the other man's Instagram account.
Additionally, by using this tool, you may also obtain Instagram's exclusive material.
Watchinsta is a different Picuki option that you can use. It is an excellent Instagram profile viewer tool that encourages easy access to any Instagram profile's videos and images.
You won't be able to take your eyes off of Fullinsta because it has a fantastic algorithm that enables you to explore Instagram profiles, videos, and photographs.
It's also a fantastic alternative to Instagram Picuki because its web-based Instagram viewer tool allows you to follow other people's Instagram accounts discreetly.
Is Picuki really as anonymous as it claims to be?
Yes, Picuki is an anonymous program that enables account-free Instagram browsing.
You do not need to sign into your Instagram account or create any additional accounts. Your entire Instagram activity with Picuki is not tracked or recorded in any way.
It even enables you to access all of a user's public Instagram profile details. You can see their stories and posts without identifying yourself.
You won't be able to tell the users that you have read their stories. Picuki is therefore fully anonymous.
One of the main advantages of Picuki is its complete safety and lack of pop-up ads or other irritants.
Additionally, the app makes use of Instagram's official API to prevent downloading of protected content.
However, since Picuki isn't always legal, you should always use caution when downloading content from it.
Anyway, the following five techniques are provided for you if you wish to discover a new way to download films or browse the internet.
If you can learn how to use it properly, it's a fantastic tool. What about Picuki do you like best?